Post by vurrunna on Oct 14, 2019 5:52:19 GMT
Folks have been posting backstories to their warbands for the AoFS campaign, and I figured it'd be fun to post the backstory of my beautifully haphazard pack of maniacs in the GFF campaign. Enjoy!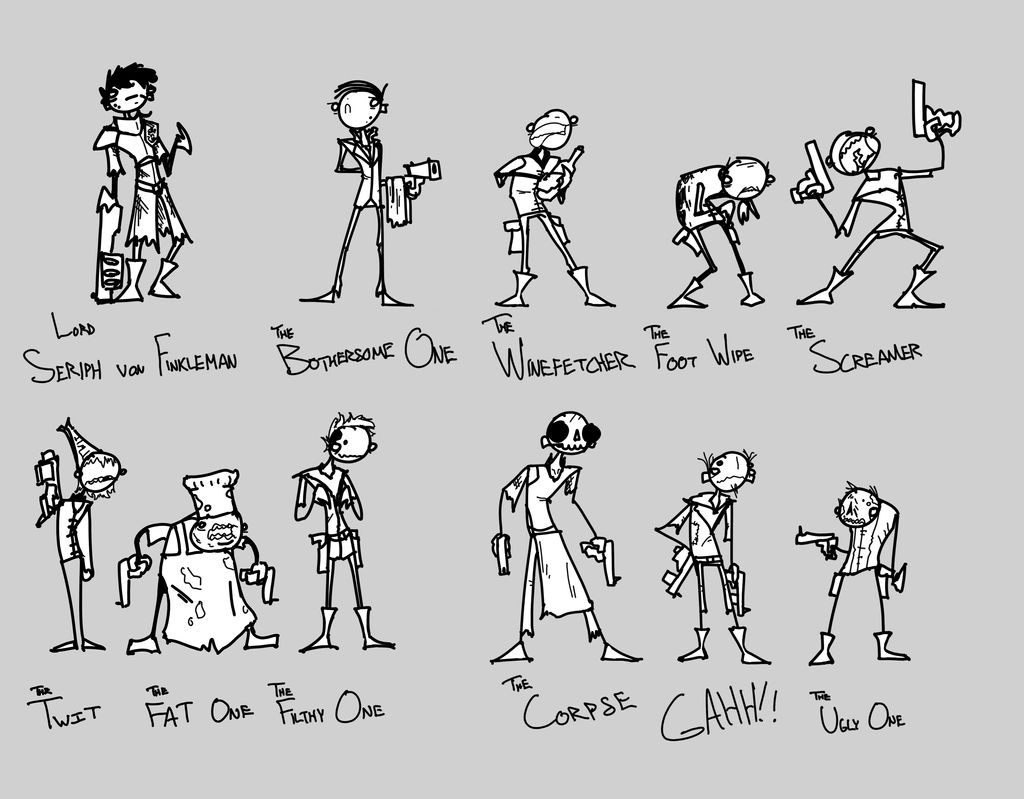 The Lord Duke Seriph von Finkleman, Third of His Name, Honorable Ruler of the Expanse of Finklemanlandia, Novist Pianist, has long resided within his pleasure palace deep in the city's seedy underbelly, sipping fine wine and playing classical music to drown out the screaming and pleas for help from outside his high-voltage gates. Recently, however, there's been a bit of a commotion, with loud gunshots and explosions ringing out through the chasms of Hive City--the whole business has thrown of Seriph's focus quite terribly, and his piano skills have suffered as a result.
Infuriated by this turn of events, The Lord Duke has set out upon a Righteous Crusade, immediately gathering up all of his retainers on hand to go and impart Lordly Justice upon the serfs and peasants so selfishly impeding upon his symphonic musings.
Murder. He's gonna go murder some gangsters.
With him is his ever-loyal butler, Nigel Pennyworth, a man whose served the Finkleman's all his life and is undyingly loyal to the Finkleman line (if they die, his payment is null and void). Considering Seriph has been a wretchedly abstinent celibate all his life (he's terrified of women), Nigel is very keen on keeping his last employer very much alive.
Seriph's most essential retainers, the Shrieking Servants serve to satiate Seriph's various needs. The Winefetcher is a nervous wreck, as at any given time he has more credits worth of wine on his person than the value of the entire gang put together. Old and addle-brained, the Foot Wipe serves to relive the Lord Duke of all earthly concerns, namely clearing his boots of liquefied earth and the various other unpleasant substances that litter the streets. The Screamer's purpose isn't entirely clear, but he certainly has enthusiasm--that or he's in constant pain, it's hard to tell with all the incoherent screeching.
Secondly comes the Cooking Crew, taking care to cater to Seriph's cravings. The Twit is supposedly supposed to be a scullion boy, though Seriph has yet to see him scully anything so much as scatter dishes in every which direction. The Fat One is nominally in charge of all cooking services, though the gruel he dishes out has usually served far better as a side-arm and means of committing war-crimes than as anything resembling "food." The Filthy One, meanwhile, serves to keep things clean, typically by being so utterly revolting himself that the rest of the room looks pristine in comparison.
Finally, there are the Foppish Freaks, a feral foray of frightening Frankensteins*. The Corpse is caught snuggly somewhere between perfectly alive and utterly dead; on the one hand he's still alive enough to eat things, but on the other hand he'd like to eat the other hand. Meanwhile, GAHH!! is best known for the reaction he ilicits from anyone unfortunate enough to see his hideous visage, which, despite his perfectly peaceful and affably amicable nature, leads most to abandon such practices as pacifism in favor of
killing that horrifying creature with fire dear creation it's coming toward me
--. Then there's the Ugly One, who, if he's a hideous sack of rotting flesh and pus-filled scars, is at least a
natural
sack of rotting flesh and pus-filled scars.
Together, this gang will venture forth and bring peace to the lower levels of Hive City--which is to say they'll keep killing people until it's quiet enough for Seriph to practice piano in peace.
*Yes, I know Frankenstein was the Doctor not the monster--look,
you
try and come up with a fitting phrase for such frequent alliterative feats!
Notes on their first battle (as well as the two newest gang members) are to come!