Post by acethesupervillain on Jan 8, 2020 17:48:48 GMT
So I've got a weird plan. I've been thinking about making a way to play Wargames or Skirmish games completely on the computer, using an art program like Gimp, Photoshop or Blender. In a 2D program, the "models" would be pictures off the web, maps would be painted pictures (like a D&D map). In a 3D program, it would all be done with 3D models.
The idea behind this is to save on cost and space. You can just play the game on a laptop or HDMI screen. 3D models can be comparable in price to wargaming figures, but you can copy & paste them for large armies. For 2D games, there are billions of cool characters and maps that you can download for free for personal use. Also, wargaming minis tend to stick to a single particular style, if you want to play a wargame with something other than a screaming middle aged man with a gigantic head, you kinda have to do something like this.
Right now, I'm working on a series using a
different one page fantasy skirmish rules set
, it's graphics from the
Aekashic's Librarium
and you can
view the fights from this playlist
. (I'm working on a video that explains more of the set-up process, I'm hoping to have it uploaded within a day or two)
Once I'm done with that campaign, I definitely want to try it with an OPR game in 3D. Since the last game was fantasy, I want to switch to sci-fi, and I still prefer skirmish to wargame level, so I've settled on Grimdark Future: Firefight. I'm going to be using my own Acheron Series 3D models, specifically, Orcs and Outsiders, which I'm going to cast as OPR's Orks and TAO Coalition. I've done some of the models already.
I've always have a different idea about what "orcs" should be, and I figured a little "appeal" might help get my channel off the ground. Sorry that the images are a bit big, but it's sorta my whole point that you can do that on a computer.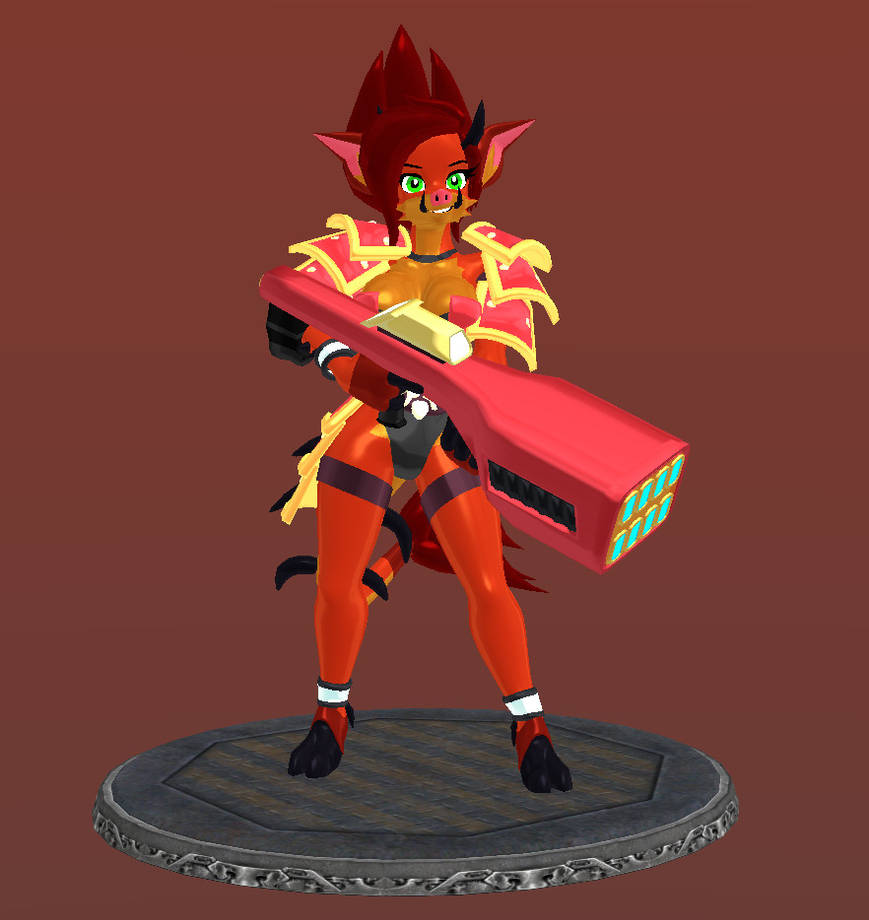 (I don't have a gun that really looks like a flamethrower, so she's holding a Mjolnir Shotgun which looks like it would function similarly)
Ripple
Orc (15)
+ Carbine (5)
+ Heavy FlameThrower (15)
---
Total (35)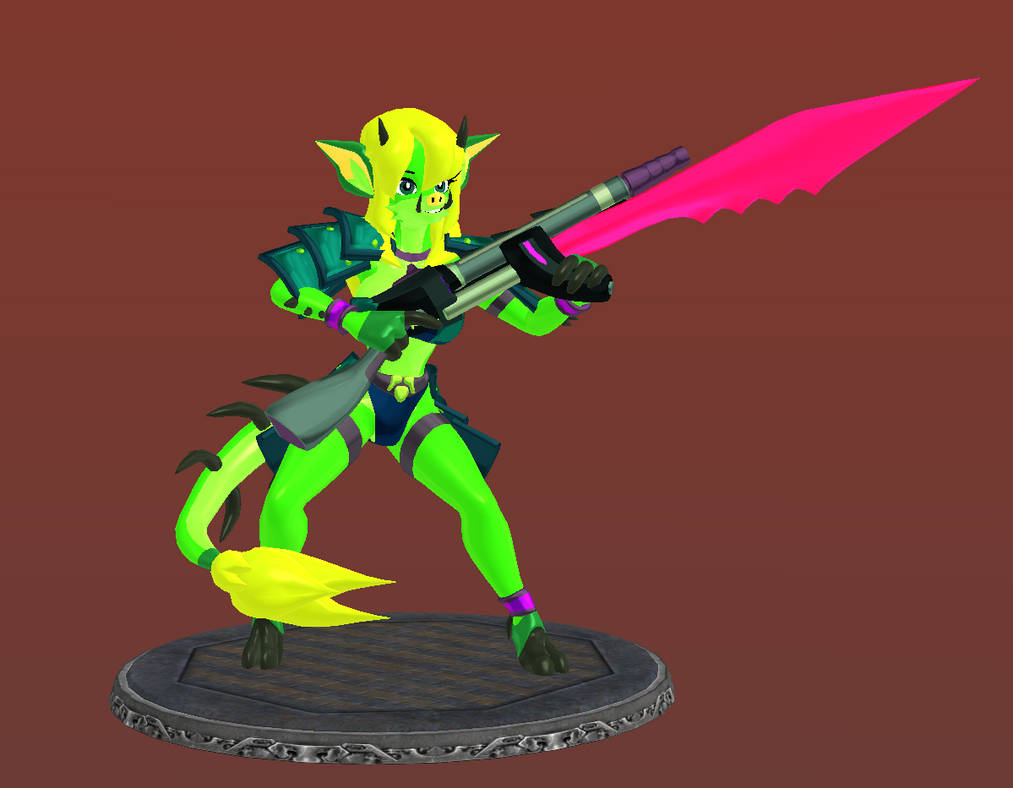 (again, didn't try to match the "Ultra Sawblade", I just made a big melee weapon. also, seems to me like Heavy Machine Gun and Ultra Sawblade are both two-handed weapons, so I decided to combine them as a bayonette gun)
Saber
Orc (15)
+ Heavy Machine Gun (15)
+ Ultra Sawblade (5)
---
Total (35)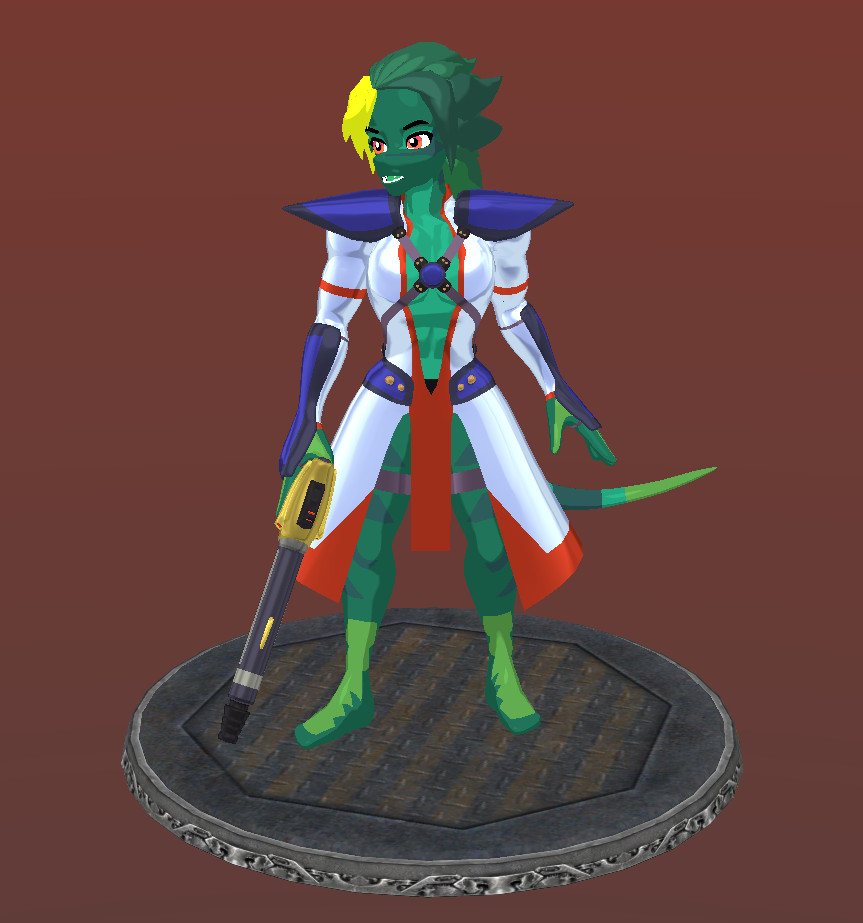 (although he uses the Orc point template, he's an Acheron Lizardian, I'm going to say that the Orcs are actually too unfit to be doctors, so they hire or enslave other races to do it)
Dr. Fang
Orc (15)
+ Mad Doctor (90)
---
Total (105)
(No pic yet)
(I'm not sure how I'm going to handle a biker, if I should make the bike myself, or use something I've bought...)
Zeal
Boss Biker (55)
+ Twin Mini-MG (15)
+ Ultra Drill (5)
---
Total (75)
I haven't really started thinking about how the Outsiders will look, but here's a render of an Outsider from a different project, so you can see what they look like:
Gun Drone (30)
Gun Drone (30)
Deneb
Jackal (15)
+ Marksman Rifle (15)
---
(30)
Vega
Jackal (15)
+ Marksman Rifle (15)
---
(30)
Capt. Fjord
Battle Suit captain (100)
+ Plasma Sword (5)
+ Missile Pod (25)
---
130
I'm thinking Deneb and Vega will be twins. I'm not sure how I'll do Capt. Fjord's battle suit, it might just be a jetpack or something. I'd rather have a visible character for now, and also, I don't want to model a battlesuit. For the Gun Drones, I'm going to use my old
Battle Pod
model.
Here are some shots of the map I've got: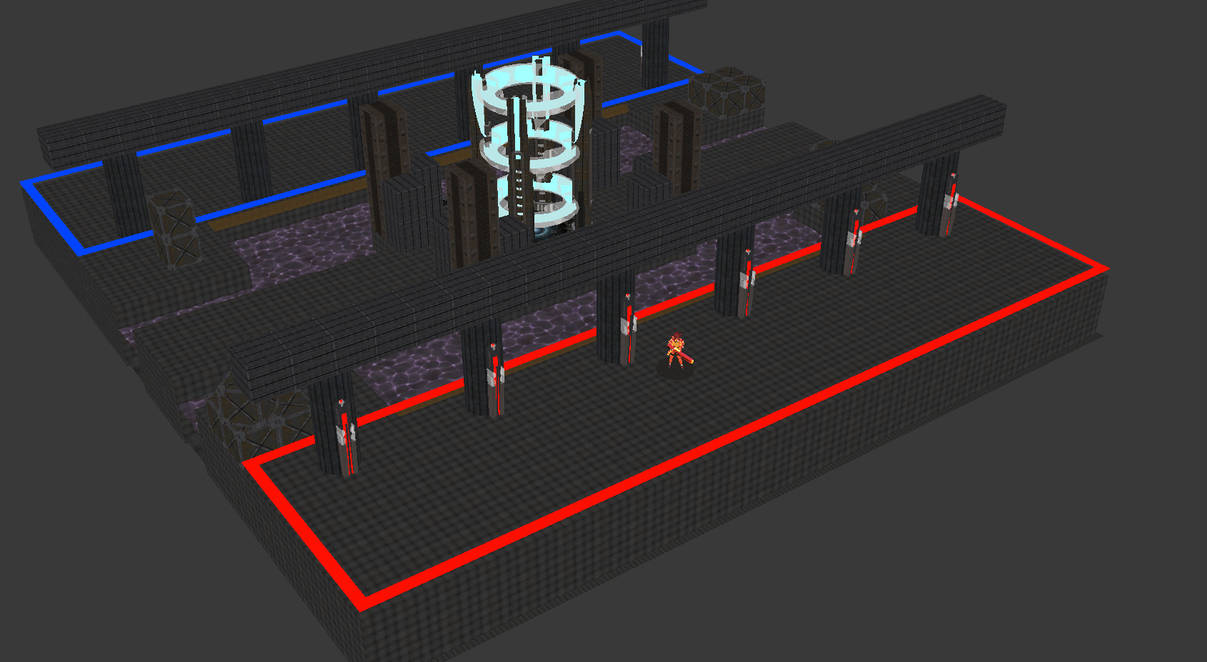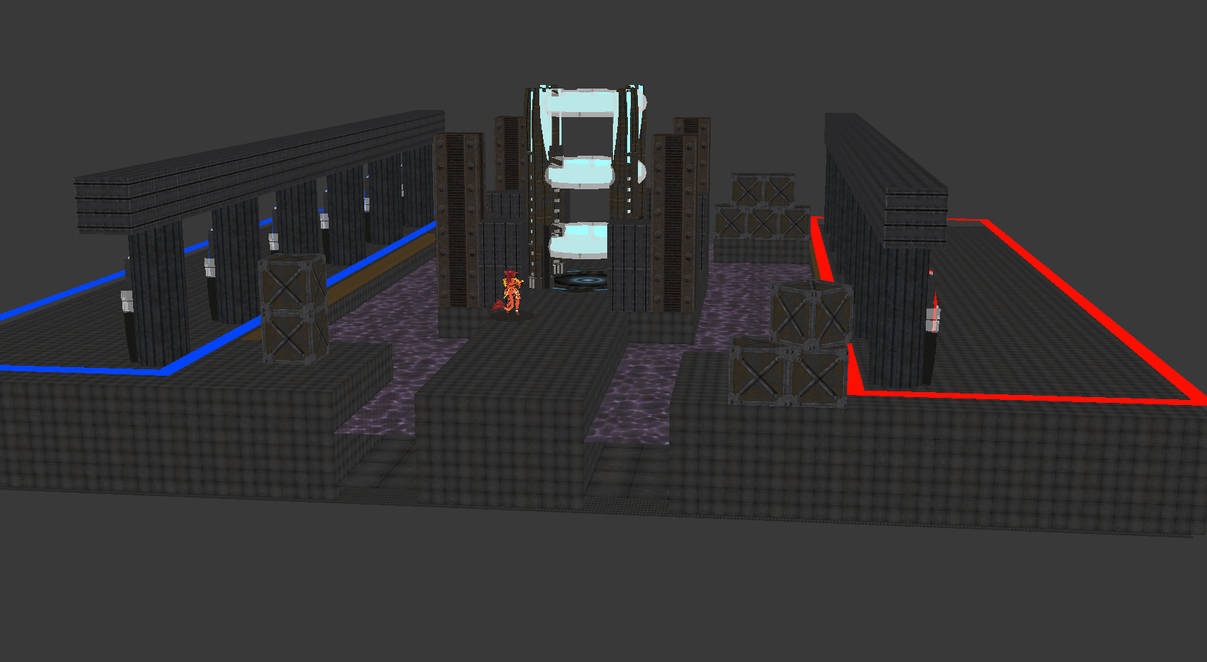 I had a total mindblank when I started trying to come up with a map, so I just started playing with blocks and ended up with this. I have no idea if this will be any good for GF:F. I think there's enough cover for an entertaining shoot-out, but I feel like there's not a whole lot of space for objective markers. I'm wondering if I've even understood the deployment rules correctly.